AmazonSmile has shipped out for more impactful ventures, so we've curated a list of alternatives for your animal rescue.
We all got the email in January that the online retailer that has helped so many animal welfare projects raise passive funds, has decided to focus its charity initiatives on larger projects. Unfortunately that's left a lot of rescues and shelters in a lurch as that income, though small for many of us, was meaningful. Not to mention some of the larger projects that had millions of supporters shopping for their benefit, just look at some of the examples below!
I suppose when you look at large numbers and dollars all day, it's easy to get excited about the possibilities of doing more and giving more valuable donations, but when you're an animal rescuer, value is subjective. Someone's old t-shirt is a kennel mop rag, someone's torn blanket is perfect bedding, and a child's old teether is perfect canon fodder for piranha puppies. I know my personal contribution to the rescue I chose didn't end up much more than $100 over the lifetime of my account, but that's at least 2 more pets microchipped! That's 2 possible shelter diversions, 2 possible owner returns! That's a difference we need to keep seeing.
Amazon may not have been the first company to provide local animal shelters and rescues both a simple way to collect donations and a great way to promote your wish list, but no one can deny, they're the ones that brought it some much needed limelight. So what now? How do we compensate for a lost advantage? Well, we find an alternative. There are other services (some that have been around longer than AmazonSmile even) that you can use to promote yourselves with and engage your donors.
Opportunities to be found:
🐾 iGive is probably the oldest platform like this. It also comes with a mobile app for convenience and a browser extension to remind online shoppers the same way AmazonSmile did. Additionally, since the percent return can vary between .6% to a full 26%, a single user can generate so much more for their preferred animal rescue than they ever could with Smile. According to their founder, Rob Grosshandler, iGive experienced a 600% increase in users and new signups since Amazon disbanded its service.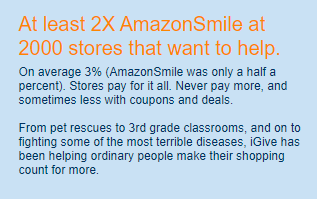 🐾 CouponBirds Seedling Project is another great option because online shoppers have an incentive to use it. Coupons! They get to shop with coupons, and you get to collect quarterly donations. Additionally, they have a referral program for nonprofits for an extra bonus!
Other options (as mentioned in a Forbes article) include:
🐾 GoodShop (who also have coupons and a current promotion for tax filing)
🐾 Givebacks (shoppers link their credit card to their Giveback account and any purchase made with that card at qualifying stores earns donations towards your rescue or animal shelter)
🐾 Shopraise (this app also engages supporters and gives them a way to contribute separate from their percentage earned)
So who needs Amazon?!
There are plenty of other places out there that understand the significant impact even one person can make. The options listed here are just some of the AmazonSmile alternatives for animal rescues to take advantage of, and if you've read our previous Muttric about fundraising in 2023, you know we're big on community!
Reach out to your surrounding pet stores with a cute flyer of wish list items. See if they would be willing to post that flyer in the store for generous customers to contribute to help homeless animals and assign a volunteer to make the rounds collecting those contributions when the stores call. It won't cost the pet supply store anything to promote your animal rescue, and it won't cost you anything to engage your community.
At the end of the day, we know that value is less about dollar amount, and more about consistency, so let's keep moving forward to promote more services who make consistent donations for animal rescues and shelters possible!