If you ever find yourself looking at the clock and wishing you could add just a few more hours, or even minutes to your day to save more lives, we're here to say we have been there! We get it, time is always of the essence in the animal rescue world. From intakes and adoptions to vet visits and foster placements, we all can relate to the feeling of wanting to have just a little more time.
We are here to help give you time back with the latest feature from Pawlytics! Read on for more!
Pawlytics customers have reported spending hours upon hours each week reaching out to fosters about their foster pets' medical care. Foster coordinators and medical care coordinators at animal rescues spend time researching which pets are due and looking up foster information. Then, they have to text, call, or email each foster about their pet's upcoming medical care. And, we found, even with these cumbersome efforts, rescues still had fosters miss crucial vet appointments.
To solve these challenges, we are incredibly excited to announce MEDICAL REMINDERS—a powerful new tool in Pawlytics built to streamline your foster communication efforts to help keep your foster team on track when it comes to medical care for your animal rescue's pets.
Using Pawlytics medical reminders or alerts will allow you to send automated, custom text, email, and in-app notifications to anyone in your Pawlytics database. As a Pawlytics user, you can now create reminders to send one-time, daily, weekly, monthly, or yearly cadence. You are able to "set and forget" these reminders, ending the manual reminder process.
Right from a pet's medical section, you can personalize, customize, and automate text, email and in-app reminders to be sent to any person or user in your Pawlytics database. 👇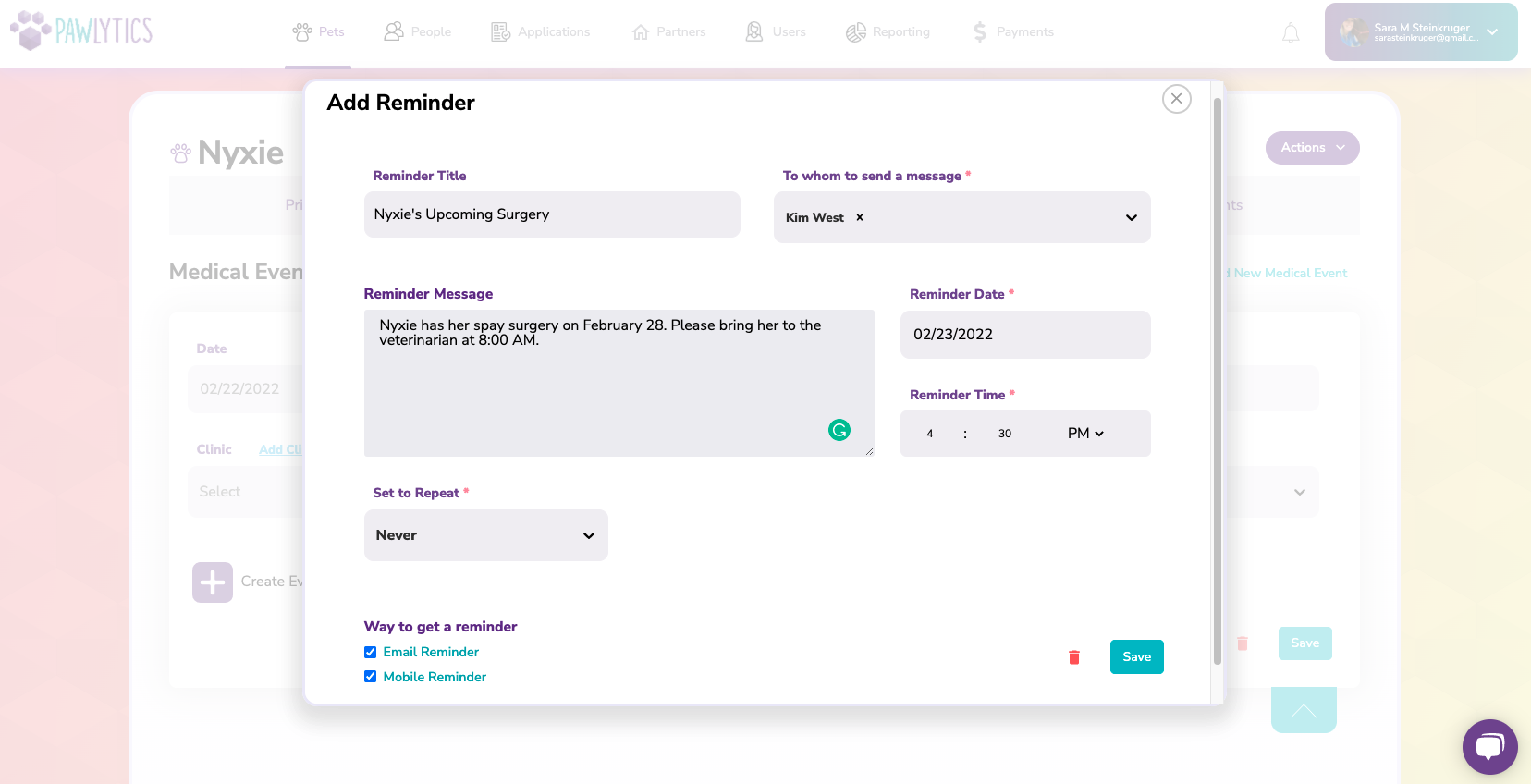 Use this streamlined communication system to remind fosters about upcoming vet appointments, remind adopters about medical care after adopting, and more! Automate communication between, fosters, volunteers, and more all from within your Pawlytics account.
Check out examples of text and email reminders for your animal rescue below!
The text below was sent directly to a foster about Molly's upcoming vaccine. This feature allows you to create custom texts that are sent directly to the pet's foster home.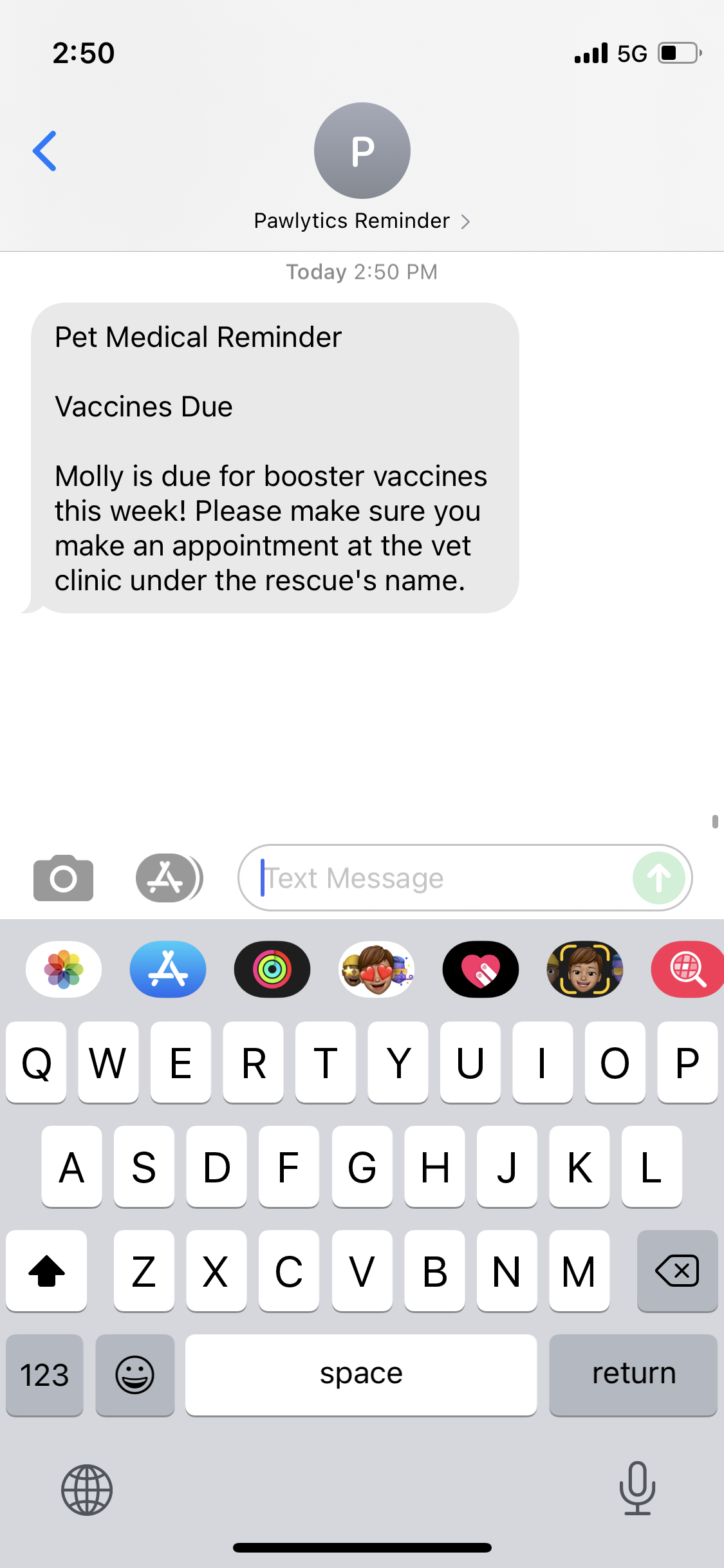 The same message was also sent as an email! The reminder feature allows you to send texts and/or emails. If you are sending a reminder to a "User" (or yourself) in your Pawlytics account, they will also get an in-app notification.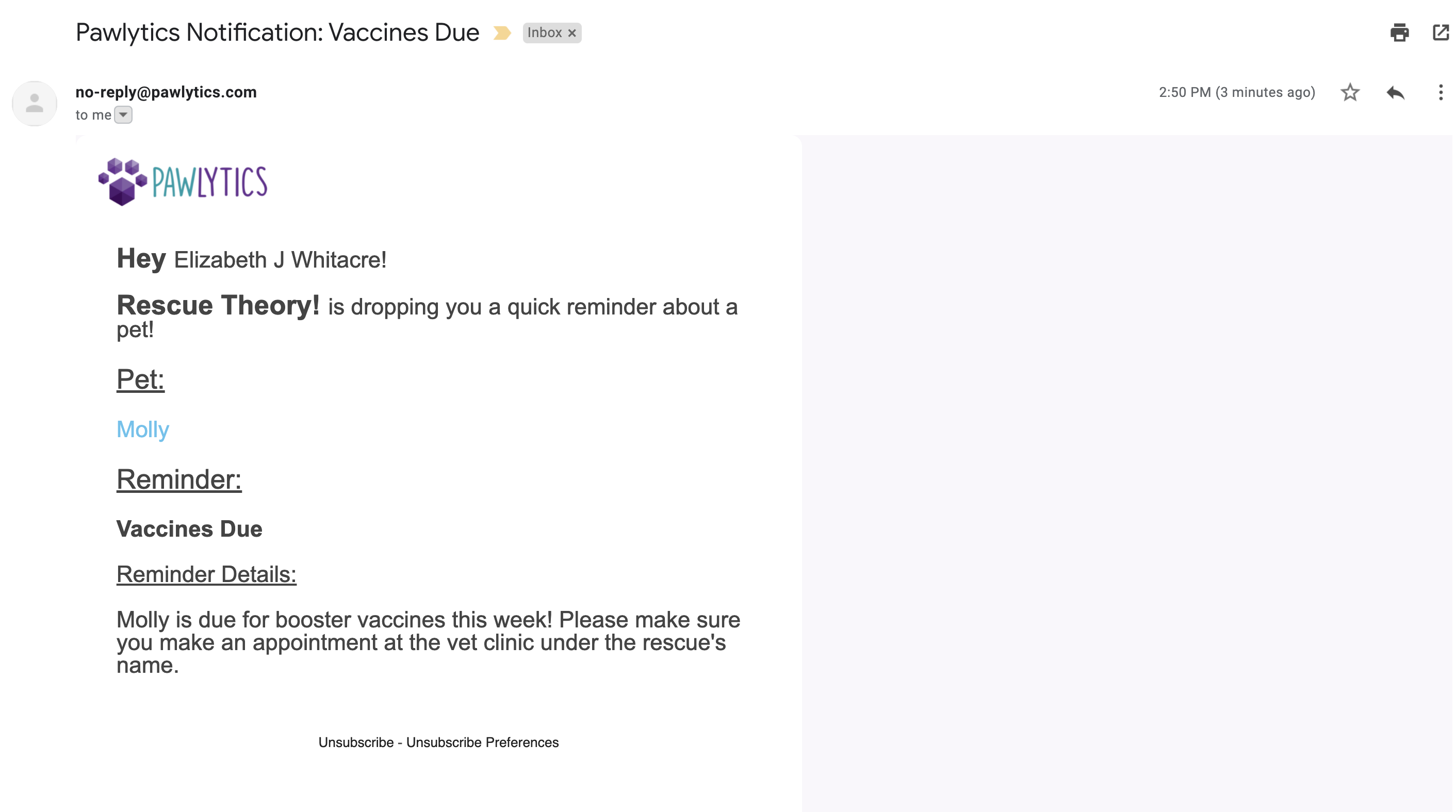 We created these reminders to help make your and other team members' lives easier! Rescues in Pawlytics are already sending reminders about:
Upcoming scheduled vet visits (like spay/neuters or other surgeries)
When to give medication and how much
Due dates for vaccines
Foster photo requests
Meet and greet events
Adoption event remidners
And more!!
Get started sending reminders!
If you're a Pawlytics customer, you can start sending these now! Head to the knowledgebase (either through the link on your dashboard or from the chat bubble) for step-by-step instructions to set your first reminder. If you are not yet a Pawlytics user, you can sign up for our 14-day free trial to test out the feature along with everything else Pawlytics offers for you to help manage your organization's data! Have questions? Send us a direct message here, or sign up for a demo! We'd love to meet you and see if we may be able to help you streamline your life-saving efforts!!
The PAWssibilities for these reminders are endless! 🐾