Meet SaFeMEOW, a cat rescue coming to us all the way from Ontario, Canada!
SaFeMEOW Cat Rescue stands out among cat rescues by focusing not only on the importance of providing rescue and surrender services but also on the care their rescue cats receive while with them. SaFeMEOW provides comprehensive veterinary care, socializing, and a safe foster home for all of their cats until they are adopted. Each and every cat in SaFeMEOW's foster care program is treated like their own until they find the PURRfect adopter.
Each cat coming through is spayed/neutered, vaccinated, fully dewormed, treated monthly with flea/tick preventative while in our care, microchipped, has a vet exam, and an insurance trial activated upon adoption. The cats, of course, are also provided with a plethora of love and attention.
SaFeMEOW was founded by an animal-loving wife and husband team, Alicia and Jason, who have committed their entire lives to providing animals with the best life possible, shown by their founding of SaFeMEOW while spending their careers as registered veterinary technicians.
SaFeMeow works alongside a leading reproduction clinic, allowing SaFeMEOW to provide specialized care to neonatal kittens. They have facilitated rescues from northern Ontario, Windsor, Quebec, and even as far as Dubai! They also have a specialized foster who works with feral kittens, fully domesticating them for adoption.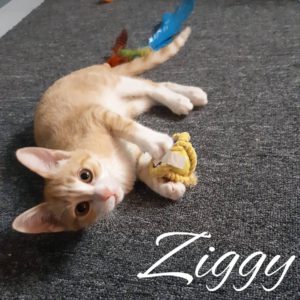 Meet Ziggy!
Ziggy was a young kitten brought into the animal hospital where SaFeMEOW's founder was working. Ziggy was found lying in a ditch, just a few minutes up the road. As SaFeMEOW took over guardianship of this homeless, yet purring, kitten they discovered she was in very rough shape and was in need of immediate medical attention. She had a broken pelvis, pleural effusion, and contusions in addition to multiple parasitic infections. She was maybe 10 weeks old. Ziggy received one on one nursing care for many, many weeks. She fought every moment for her life, and little Ziggy won! Ziggy made a full recovery and was adopted. Her owner is mindful of her history and will monitor her for arthritis as she ages, but right now Zigg is doing fantastic! She showed us the pure willpower, strength, and ability to heal that kittens have.