Looking for a team of dedicated Doberman lovers? Look no further than Saving DobermanKind Animal Rescue, a rescue full of volunteers providing a safe place for abandoned and forgotten Doberman Pinschers!
SDAR is the one and only Doberman Pinscher-specific rescue in the state of Colorado. Located in Fountain, CO, just south of Colorado Springs, SDAR was founded in 2014 with the simple, but powerful, mission to save the Dobermans. The organization is run by volunteers who are passionate about the breed, and say they all have a heart that only Dobermans can fill. The team works hard to combat stereotypes that follow the breed while helping Dobies in need find their FURever homes. One common one
SDAR is a foster-based rescue, so every rescue lives in a foster's home until they get adopted. Each dog that comes through SDAR has either been left at a shelter or is an owner surrender. The passionate people at SDAR take them in to help the dogs grow and learn what love is.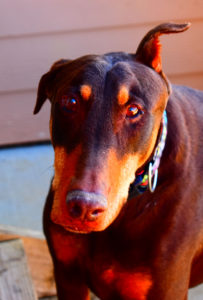 Cougar was one of the lucky boys taken in by SDAR. Admittedly, he was not the prettiest boy. His head was odd-shaped his ribs didn't aline just right. He had severe arthritis and came from a very sad situation at the shelter, being ran over two times before being taken in by SDAR. Because of his odd looks, Cougar got looked over and became a permanent foster where he was cared for and loved by his SDAR foster until his very last breath in 2019.
Thank you Saving Dobermankind for the hard work your team puts in to help so many Dobies!! You are all awesome!!