Ay Chihuahua, Caring for Texas' Most Vulnerable Chihuahuas
We're about to get you connected with your "inner chi" by sharing another amazing org, Ay Chihuahua! They are located in Central Texas, where Chihuahuas have the second-highest euthanasia rate, and they're working to do something about it. Check out their story!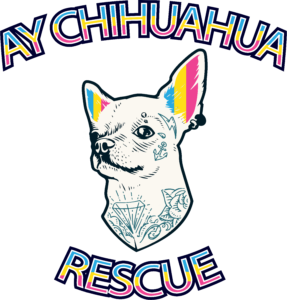 Ay Chihuahua Rescue is an all-volunteer operated, 501(c)(3) non-profit organization dedicated to the rescue, rehabilitation, and re-homing of the Chihuahua breed. Contributing their high euthanasia rates to overpopulation and lack of education, Ay Chihuahua helps local shelters move Chihuahuas out of the shelter and into Ay Chihuahua's network of passionate and caring foster homes.
All of their rescued dogs are placed into carefully chosen foster homes. These cherished families provide love, health, and mental recuperative care in a safe environment so that their Chihuahuas can thrive while waiting for their forever families to find them.
Once adopted, Ay Chihuahua is committed to helping their adopters "nurture their inner chi". Prior to COVID, they would host monthly meetups welcoming all Chihuahuas lovers along with their Toy Breed companions to socialize and make friends, which is so important for their little ones. These meet-ups gave Chihuahua owners an awesome opportunity to meet up with trainers for dog training tips, interactive socializing skill acquisition, human education, and provided an opportunity for local rescue and charity support! Dogs currently in their foster network also attend the meetups and give prospective adopters a chance to meet with dogs and play with them. They've even had a Chi kissing booth! Raise your hand if you'll be heading there once COVID is over!
Being around for over 10 years, Ay Chihuahua been around the block more than once. They say they treat saving dogs like a hobby that they love. This means they fit their rescue into their everyday activities around their jobs and families. They encourage those wanting to start a rescue or those wanting to grow their rescues to research what places in your area partner with rescues. This is a great way to join already successful programs rather than starting from square one. They say it is incredible how many organizations already have programs that rescue like yours could help contribute to the larger picture of saving lives!
Saving Adia and then Daisy, Brenda, and Callie too!
The rescues we work with never know what is around the corner when it comes to saving lives, and in August of 2020, Ay Chihuahua answered the call to help a litter of puppies in desperate need of veterinary care and a loving hand to help get them through. Story below!
The call came from a local shelter. A 5-week-old baby Chi had been surrendered, and she needed immediate veterinary attention. The sweet pup, now called Adia, barely weight one pound, was severely dehydrated, and her body temperature was a very low 97.6 F. Ay Chihuahua stepped in, and after a consult with their primary vet, took her into an emergency facility where she could benefit from round-the-clock care and attention. At this point, Adia was fighting for her life and fading fast, dependent on fluids and glucose delivered intravenously. To make matters worse, she had ulcers in both eyes, one of which was so damaged that the medical recommendation was complete removal, assuming the poor girl could become stable enough for surgery.
The next day, while Adia was still in emergency care, Ay Chihuahua was contacted again by the shelter. They were informed that Adia's THREE SIBLINGS had also just been surrendered, also all suffering from multiple issues including being lethargic and emaciated. Again, Ay Chihuahua answered a life-saving call. They immediately took in Adia's siblings, now named Daisy, Brenda, and Callie. They were matched with and sent to capable and loving foster homes.
Then, just hours after intake, Daisy's foster recognized that she had started to lose weight. The tiny sable Chi was also taken in for emergency veterinary care where it was reported that her glucose was dangerously low and she was suffering from mild anemia. Callie, Daisy's doppelganger, was also showing signs of a weak appetite and required syringe feeding, so naturally, she quickly joined her sisters at the emergency facility.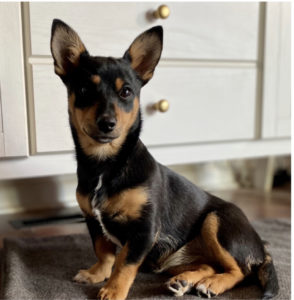 Flash forward a few days later, and things were looking up. Adia was released from emergency care and went home with her foster, where she started eating everything in sight! Because of the outstanding diligence of her foster family, she is now fully back to normal AND has two healthy eyes!! Callie was released a day later, once her body weight and appetite had strengthened. Daisy needed an extra day in emergency care in order for her glucose levels to stabilize and to combat a nasty bout of intestinal worms. Brenda, the tri-colored beauty, decide to be the odd one out and required no emergency care as she was able to bounce back quickly on her own with some traditional care from our primary vet.
What could have been a tragic story, ultimately had a very happy ending. Adia along with her three siblings have all found forever homes with incredibly caring families.
Caysha, the president of Ay Chihuahua said it best, "It's times like these that we reflect on the good that our rescue can accomplish for these animals and reinvigorates us in our mission to provide world-class care for our rescued chihuahuas, from first look to forever home."