Struggles to Snuggles, a Pocket Pet Rescue
Struggles to Snuggles became a bright light for our smallest pocket-pet friends in the dire year we now know as 2020. Founder, Tara Wills, had been volunteering and fostering for many years and decided to start her own rescue. Wanting to help pets that have been forgotten about, she started her rescue focusing on rabbits. Tara knew rabbits are one of the most miscared for pets but quickly found that the pocket-pet group as a whole is too often neglected and forgotten about. So, Tara decided to open her rescue to all pocket-pets, including rats, guinea pigs, mice, and hamsters. Lending a helping hand to their little paws, Struggles to Snuggles is now on the mission "To rescue the small guys, the often forgotten ones".
Struggles to Snuggles was able to help the animals in a huge house raid in Tennessee. The raid found 500 mice, rats, and hamsters in one home. Struggles to Snuggles was able to take in 30 rats and 6 mice, which was an amazing effort for still being a small rescue, with about six to seven foster homes. They had all the rats and mice adopted out within 4 months to amazing, loving homes.
Struggles to Snuggles is incredibly unique in that they are one of the very few rescues that only focus on pocket pets (and the occasional kitten). They found homes for about 100 pets in 2020, and continue to grow! Tara hopes that the future of Struggles to Snuggles will include a shelter dedicated to these small animals to maximize their life-saving efforts.
We love being able to share the awesome work these rescues do, and they could use your help! Struggles to Snuggles uses every donation to fund the treatment and care of their sweet pocket-pets. Even though the animals they take in may be small, their medical bills tend not to be and require care by a vet that specializes in exotic animal care. They also keep their adoption fees low, even when medical bills are high. If you'd like to help please click this link. Tara also sells homemade all-natural pet treats and cards to raise funds for her rescue. You can support her on Etsy here.
Nico, the Rescue Bunny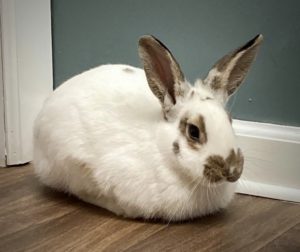 Meet Nico, a sweet bunny who was found alone outside. The family who found him took four days to catch him, and once caught itwas evident he had been living a sad little life alone outside. When Struggles to Snuggles got Nico, he was thin, dirty, had ticks and had GI stasis. GI stasis is a life-threatening thing that happens in bunnies that causes their guts to completely stop.
Struggles to Snuggles jumped right in to help little Nico heal so he could enjoy his life with a loving family. Unable to give him a full bath (because bunnies will get too cold and stressed when completely wet), they took Nico to the vet who helped him out of GI stasis. Nico was slowly cleaned up, having one bath a day focusing on different sections of him each time. The ticks were removed and the mats were brushed out.
Nico was like a new bunny! He ended up staying with Struggles to Snuggles for 5 months without any interest. While he was waiting for the perfect home, he gained weight and he let his little bunny personality shine through! Nico became so friendly, so funny, and so curious. He had so much personality and loved people. The 5 months were long, the longest Struggles to Snuggles had ever had to keep a pet. They didn't understand why no one was interested in him. But, it seems that he was just waiting to find the most wonderful match.
As the months ticked by, Nico finally had some interest from a girl that had another bunny (a female bunny!) and she looked JUST LIKE NICO. She adopted Nico and he bonded with her bunny within a week. They are now husband and wife, and Nico lives a very happy rabbit life with his new family.
Here's to being there to help the small guys, the often forgotten ones!